Options for Projects With Traditional Fireplaces and Bio Ethanol
Traditional Fireplaces Without Working Flue or Chimney
There are many old or dated houses with beautiful, often antique traditional fireplaces where a mantelpiece itself is a feature of the room. The construction of the chimney is often very old-fashioned or simply dated and any renovation work might work out extremely expensive. We do have customers coming to us after getting quotes for their chimney work going well over £10000. Considering the fact that nowadays fireplaces are not used for heating and remain purely decorative, this often seems too high a budget for preserving the original functionality of the chimney and having a real wood fire.
Bio-ethanol fire could be an option here and there are several options that a customer may consider satisfactory. Even though the majority of bio fires are in fact contemporary designs, there are some that will fit in with a traditional interior very well.
At Bio Fires we offer a varied range of options for traditional fireplace lovers. We pride ourselves in being particularly focused on providing solutions for projects calling for a period fireplace conversion.
1. Complete fireplaces with a classic design mantelpiece: Roma II, Carrington
The above fireplaces will suit a project which currently has no fireplace as they are designed to be placed against a flat wall. They are the ultimate solution for projects specifying a flueless fireplace in a flat or any other space where building into the wall is problematic. The fires can be attached to the wall with mirror plates or left freestanding. The mantelpieces can be sanded down and repainted to achieve your desired look.
If a room has skirting boards, they can be cut to accommodate the fireplaces (for flush fitting), or the mantelpieces themselves could have a trim at the back to fit with the skirting boards. This, however, is not necessary and many customers decide to simply push the fires against the wall without any adjustments. The mantelpieces of both fireplaces are made of wood and finished with smooth, durable cream paint.
2. Fire baskets to suit regular fire openings as well as large fires with integrated bio-ethanol insert:
The baskets come in two sizes, Black Basket and Polished Steel Fascia Basket are both the same size: 47 W, 28 H, 32 D cm and they are extremely popular for residential refurbishing projects with standard size openings, whereas our Luxury Montagu Basket is the most common choice for architects designing or redecorating a large fireplace. It measures 60 W, 27 H, and 31.5 D cm. It also produces a much larger flame as it is fitted with a large 3L bio fuel container.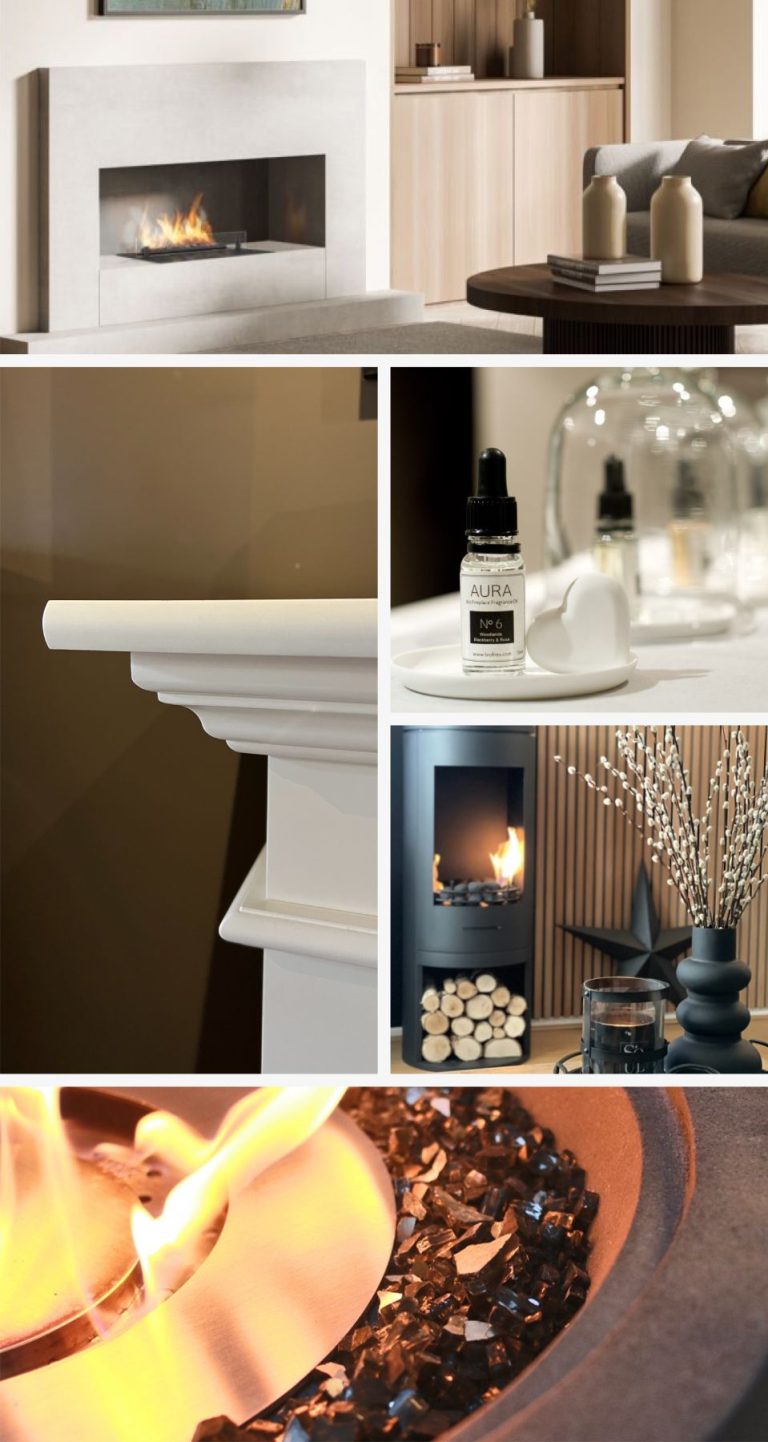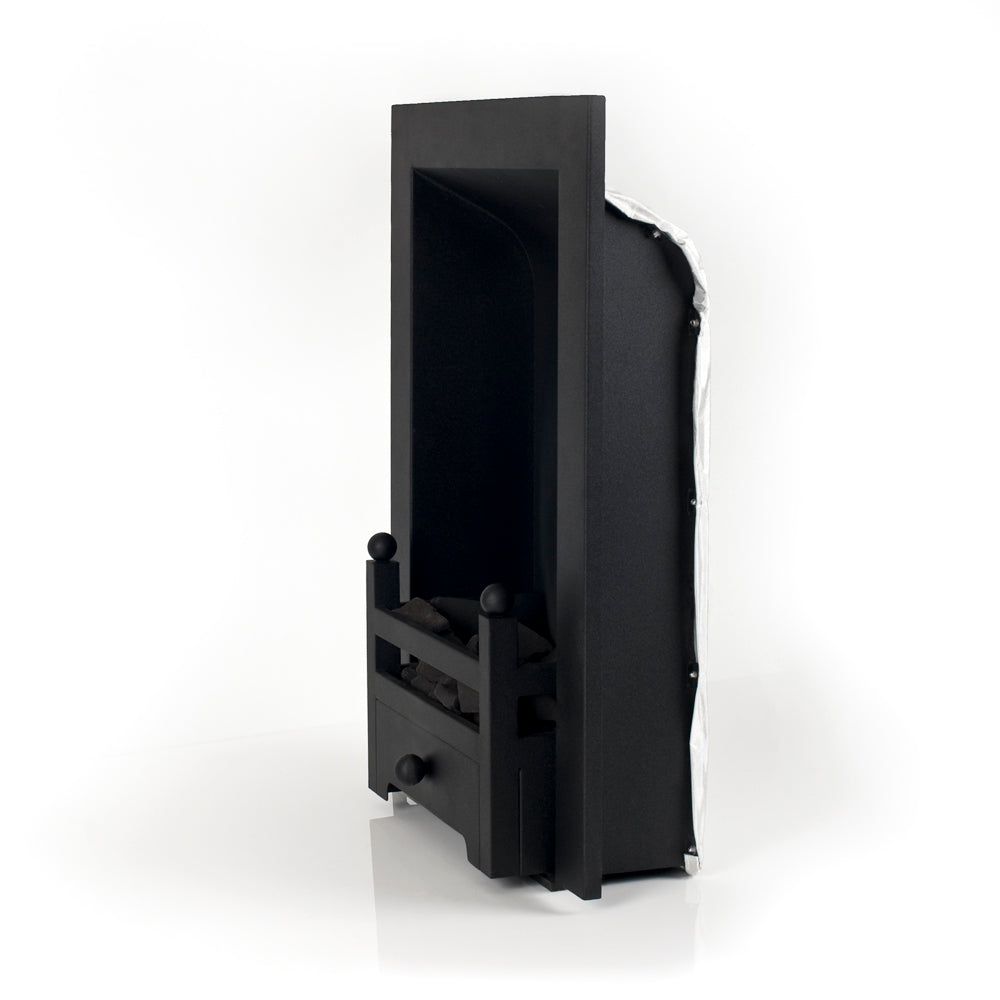 3.  Small traditional inserts for building into an existing opening with a mantelpiece:DIY Firebox Insert
The Firebox Insert is a fantastic solution for creating a functional fireplace feature inside an existing opening, particularly when refurbishing old gas fireplaces. The insert measures 47.5 W, 65 H, and 12.5 D cm and will produce a slightly smaller flame, ideal to make the fireplace a lovely room feature but not to produce too large a flame and too much heat. It needs to be built into a fully fireproof surrounding.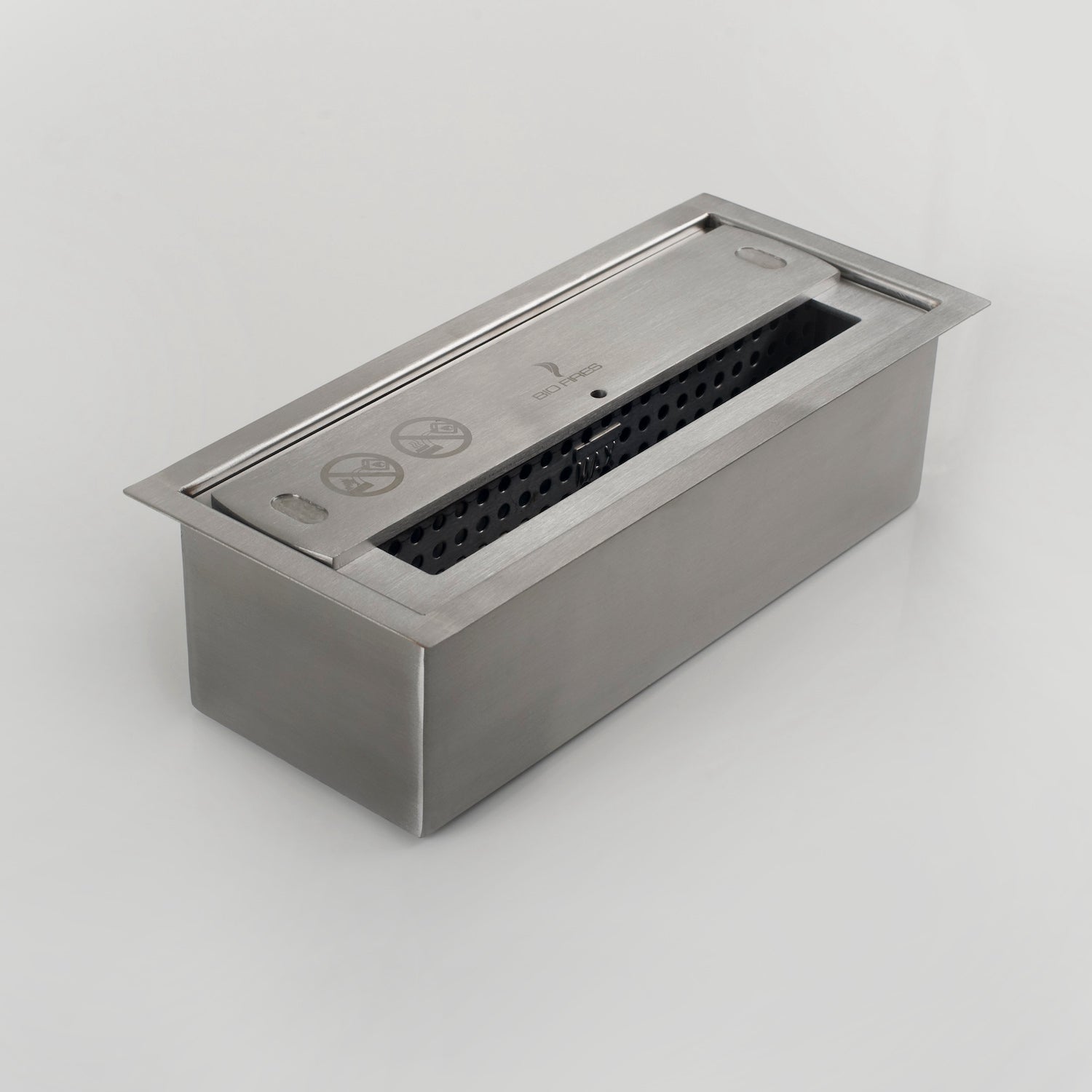 4. Burners for any fire grate:
Small Burner

Whatever the surround or the insert on the fireplace, this simple burner allows for an easy transformation of a full period or antique fire into a working real-flame bio fuel fireplace. The pictures above are real images from happy customers.
CONTAINER Small Burner