High-End Designs
Residential Projects
Planning a bio ethanol fireplace in a high-end project
When working on High-end designs and residential projects asking for a bio ethanol fireplace, it is usually not the budget but the available technical information and support as well as versatility of the actual unit that prove to be the most important.
Designing a luxury bio fire in a residential property
It seems at first that it is possible to design bio ethanol fires freely, to fill any space and shape.
Moreover, because there is no need for a chimney or flue, there is nothing stopping the creativity of a designer or an architect. However, this is only partially true. In fact, even without a chimney, the room still needs proper air exchange and natural ventilation. Firstly, when you plan to install a bioethanol fireplace, a key consideration is the size of the room in terms of cubature.
A long fireplace in the lounge definitely looks great. Although, if the client needed to open the window every time they light the fire, that may be an issue. Indeed, if the room is not big enough, the fire will produce too much heat and consume too much oxygen. Therefore, if you are an architect or a designer, you'll need to ask the relevant questions and make sure that your client specifies their needs.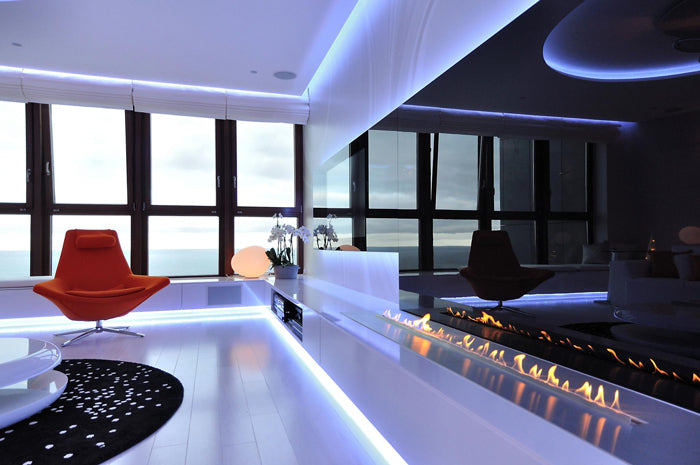 You will also need to explain the consequences of having too large of a flame in an insufficiently sized room. This desire of having a large and luxurious fireplace is common amongst homeowners. However, it is important to keep into consideration all technical and practical aspects.
Remembering the basics of designing luxury ribbon flame
First of all, please bear in mind that the design is not the only important aspect when working on a residential property. Also think of the the practicality and usability of the project's space. In this paragraph you will find some important points to take into consideration:
How often and how long will the fireplace be in use?
Is it mostly for occasional entertaining or an important part of cosy and private evenings in?
What are your client's heat needs?
The longer the flame, the more heat output.
Are remote control and SHS important features?
You can create stunning fires which are electronically ignited with a remote control. However, If your client needs a Smart Home system integration, the cost will go up quite significantly. As a guidance, we suggest a budget of at least £5200-£10000 for these technological features. Instead, if the remote control is the only feature your client desires, then the budget is lower, starting at around £3000.
Consider the cost of the structure that will house the fireplace.
Especially when you plan to mount a TV above it. There will be safety requirements and distances to meet.
Always check the room size.
You need to ensure sufficient airflow. You can do this by emailing us your specifications. We will recommend the right fireplace and give you a quote. GlammFire and Planika's dedicated technical teams will make sure that your plan includes the right unit for your room's cubature. However, if your client's room is too small for the length of the flame, you will need to either add ventilation or change the size of the fireplace. See the "ENQUIRE" tab on Planika's FLA3 page HERE.
Check the lead time.
Residential projects often take less time to complete than complex commercial developments' ones. Therefore, in order to make sure that your project will not run behind the schedule, order your fire unit in good time. The general lead time for standard fireplaces is 4-6 weeks after order confirmation.
The most innovative bio ethanol fireplace for any private residence
We cooperate with Planika, the world's leader in the production and development of the most innovative and highest-quality bio-ethanol fireplaces. Moreover, Planika offers many designs of fireplaces based on their patented Burning Vapours technology (no direct contact between the flame and the fuel) and we particularly recommend the following options:
Fire Line Automatic 3 and PrimeFire. Click on the relevant product to read full product specifications, see technical drawings, more pictures and videos.
Fire Line Automatic 3 (FLA 3)

Prime Fire
FLA3 can be supplied with or without the Forma casing in a variety of colours and in bespoke sizes to match your project and space (technical specifications and airflow). Additionally, burners can come in any sizes between 590 mm and 2500 mm and are fully automated, with remote control and Wi-Fi built in.
Here are the minimum room requirements with a FLA3:
590 mm: 31 m3.
1190 mm: 94 m3.
1490 mm: 103 m3.
Basically, FLA3 is a sophisticated fireplace that will seamlessly blend in with the finest interior design and work in tune with the newest technology. Prices depend strictly on the size of the burner but as a guide – a standard burner of 1190 mm in length will cost about £8000 and a burner of about 2500 mm could cost around £17500.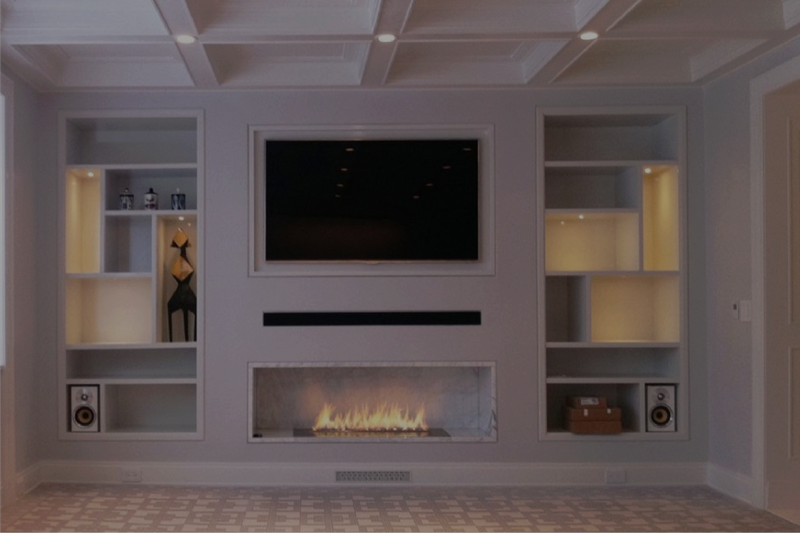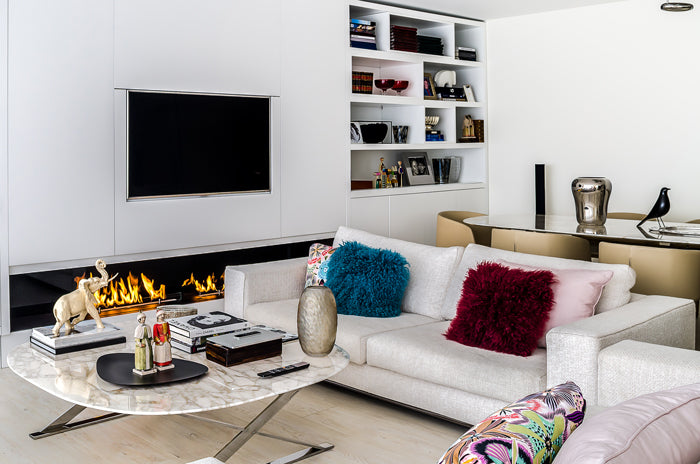 Main features of the FLA 3 burner:
Runs on Burning Ethanol Vapours technology (clean, odourless and safe burning – no direct contact with the fuel).
Six-level flame regulation.
Numerous safety features: temperature sensors, shock, tilt, and seismic sensors, spillage & leakage sensors, CO2 sensor.
Automatic fuel pump system for easy and convenient refilling.
Remote control.
Wi-Fi (tablet/phone) and the option of a Smart Home system control.
Bespoke options (as per requirements & RAL options – high gloss and matt).
Smart Home System integration and room temperature control module (optional).
New model: FLA3+ with a capacity of 10-46 L depending on the burner length and burning time of 19-36 hours.
PrimeFire is the smallest version of the highest-quality line of the fire container.
It comes in four standard sizes: 590 mm, 790 mm, 990 mm and 1190 mm. It has 2 flame size positions, remote control and a black powder-coated finish. Also, it offers automatic ignition and has advanced safety sensors to provide high-end performance as well as a casing option for an additional charge. This small automatic bio fireplace is a perfect option for residential projects where there is a need for the highest quality but the budget is also important. PrimeFire 590 costs £2640 including VAT and delivery. The important difference is also the minimum required room size.
Here are the minimum room requirements with a PrimeFire:
590 mm: 31 m3
790 mm: 44 m3
990 mm: 70 m3
1190 mm: 94 m3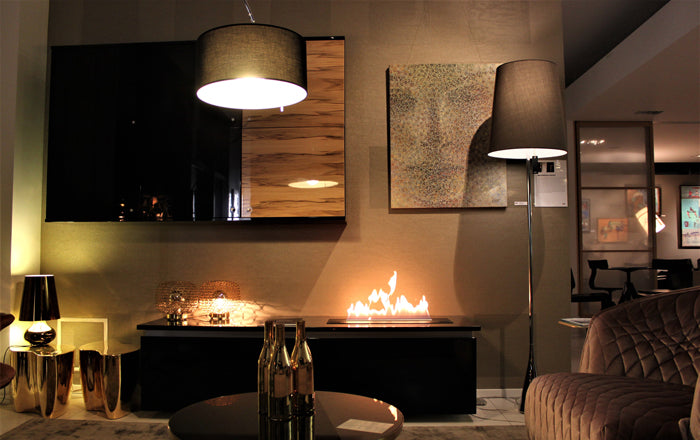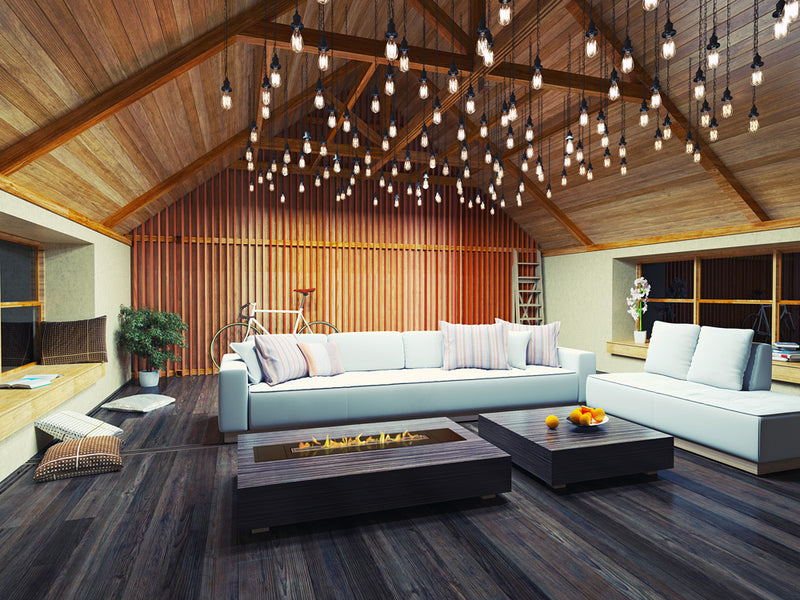 Stylish automatic bio ethanol fireplaces by GlammFire
Alternatively, Crea7ion EVOPlus bioethanol burners by GlammFire are another high-quality option for cutting-edge bioethanol fireplace design for residential and commercial properties. Available in flame lengths of 400-2400mm, Crea7ion EVOPlus burners offer an innovative system with a highly user-friendly interface, 5 stunning finishes, and flame regulation by remote control.
The main differences between Crea7ion EVOPlus and Planika's Fire Line Automatic models are installation requirements (e.g. GlammFire's burners require a vent below while Planika's fires have vents on the surface of the burner), the burning technology, lower heat output room size requirements and budget (£6000-£13000 depending on the size and finishes).
Main features of Crea7ion EVOPlus 600:
Two-level flame regulation
Numerous safety features: leveling and vibration sensors, tank door locking system, smothering and spillage prevention, overheating sensor
Automatic local filling system
Burns for 6-8.5 hours on a full tank (5 L fuel capacity)
2 working modes: power plug and rechargeable battery
Remote control
Optional external tank (additional charge)
Optional Smart Home integration
5 finishes: brushed stainless steel, black titanium-coated brushed stainless steel, polished stainless steel "Mirror", black titanium-coated polished stainless steel "Mirror" and white lacquered steel
Minimum room size: 50 m3.
If the client requires a casing, Crea7ion EVOPlus burners can be upgraded to GlammBox, offering a wide array of options for an even more creative look to your projects.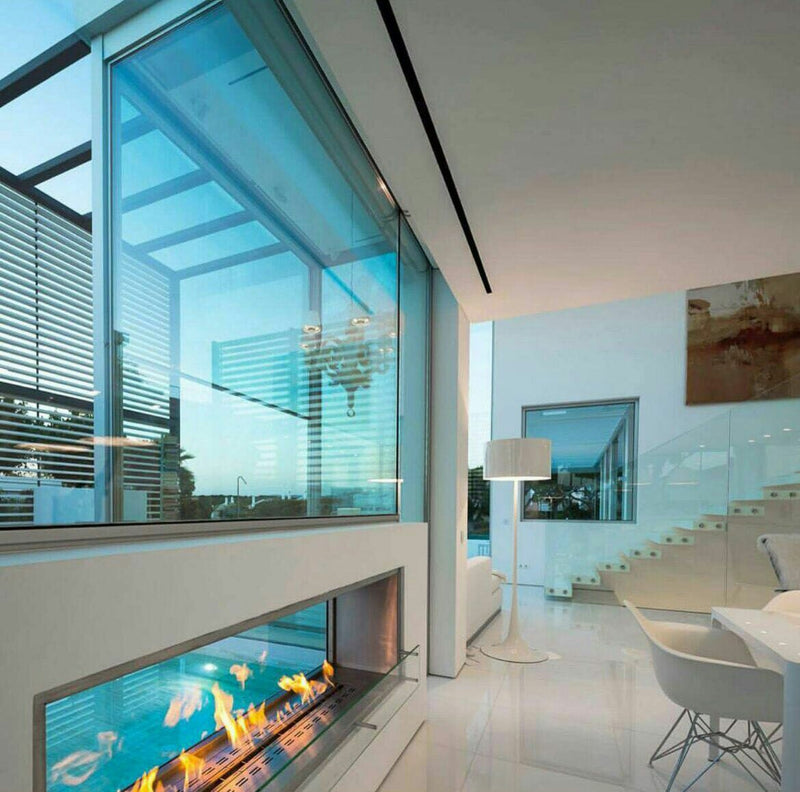 Questions?
 Email us providing details of your project and we will be able to help.